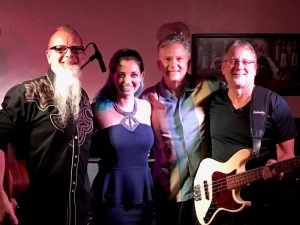 Featuring  Zai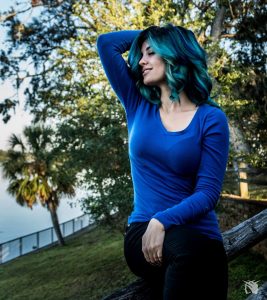 A triple threat, Zai is a rising star with a story that is sure to capture audiences of all ages. 
Her story begins with years of professional training after being given the opportunity of a lifetime at an exceptionally young age. Ruth Eckerd Hall (a well-known Floridian performance theater) recognized her talent and gave her a heavily sought-after scholarship to attend their vocal school when she was just 7 years old. From here, she flourished until she moved on to study beneath several vocal coaches of varying styles. 
If you've never seen Zai perform – you're in for one spectacular event like you've never encountered before. 
Zai is a professional singer and entertainer with specialty in teaching and vocal health. Having been on MTV'S new national TV show "Copycat" as a competitor, being a contestant on American Idol, and having won other competitions like Dunedin Idol and Pinellas County Idol, Zai's experiences are various and many. She also has sung for Phillies and Yankees baseball games, purple-heart and veteran ceremonies, and restaurants – including popular places like Clearsky on FL's number one beach. "
​
Honors and Awards
– ABC Action New's Tampa Bay Idol Winnner (Aug) 2017
– Music is Published on ESPN and WWE *current* 2017 (Nov 24)
– American Idol Contestant 2017 (Oct)
– Special Guest: 59th Annual Grammy Awards in California (Feb) 2017
– Winner of Abe's Place $1,000 Karaoke Contest June 2014
– Contestant on MTV's "Copycat" January 2014
– Chosen Member of 40 out of 10,000 People for "The Voice" May 2012
– Voice by Theresa: Vocal Student of the Year June 2011
– Metrocon Anime Idol: Winner of "Best in Show" June 2011
– Dunedin Idol: Winner May 2011
– Pinellas County Fair Idol: Winner: $500 April 2011
– American Idol Contestant (April 2010, Nov 2011)
– American Idol Disney Experience: 2 Time Winner September 2010 – March 2014 
Free Fallin – Tom Petty
Before he Cheats – Carrie Underwood
Let's Stay Together – rick bales
Ain't No Sunshine – Bill Withers
Future Husb / run  sue – Meghan Trainor
Melt with you – Modern English
Price Tag – Jesse j
All About da Bass – Meghan Trainor
The Reason  – rick bales
Central Park  – Jay lippincott
Dancing in the Streets – Vandellas
Soul Sister – Train
Sugar – Maroon 5
Ex's and Oh's –  – Elle King
Shake it off – Taylor swift
Respect – Aretha
Signed sealed – Stevie wonder
Superstitious /respect – Stevie wonder
No such thing – John Mayer
Party Started  – Pink
Moves like jagger – Maroon 5
Big White Gate – Grace Potter
Brown eyed girl – Van morrison
What's up – 4 non blondes
Lazy song – Bruno mars
Billie Jean – Michael Jackson
Friday – Katy perry
You may be right – Billy joel
Stray cat strut – Stray cats
This love – Maroon5
Gonna get over  – Sara Barellis
Wonderwall – Oasis
Happy  – Farrell
Shake it off – Taylor swift
Stop name of love – Supremes
See about  me – Supremes
Cant hurry love – supreme
Sunday morning – Maroon 5
8 days a week – Beatles
Sweet Caroline  – Neil Diamond
Forever young – Rod stewart
Treasure – Bruno Mars
Get Lucky  – Daft Punk
Rock w you – M Jackson
Take Me Away  – rick bales
Love Song – Adele
Iris – Goo goo dolls
At last – Etta james
Dock of the bay – Otis redding
I need you now – Lady Antebellum
Moondance – Van morrison
Somewhere  – Israel K
Your song – Elton john
Rhythm of love – Plain white t
Steal my kisses – Ben harper
I want you  – Cheap trick
Marry me – train
Into the mystic – Van Morrison
Temptations – My girl
Landslide  – Dixie Chicks
Here there  – Beatles
Just the way – Billy joel
First time  ever – Robert flack
Forever young – Rod stewart
First time I saw – Roberta flac
Just like you r – Billy Joel
Here there – Beatles
Miss you  – Stones
Runaround sue – dion
Mellow songs –
Beautiful – James blunt
Seems like forever – Rick bales
Heaven – Bryan Adams
Simple things – Rick bales
I do – Cobie Calliet
Banana pancakes – Jack Johnson
Norwegian wood – Beatles
heavens door – Bob Dylan
Dust in the wind – Kansas
Fire and rain – James taylor
Blackbird  – Beatles
I loved her first – heartland
Then – Brad paisley
Thank you  – Led zeppelin
The one I love  – REM
Ill e there 4 u – Bon jovi
Times like these – Foo fighters
Take me away  – Rick bales
Don't stop  – journey
Tangerine – Led zeppelin
You and  me  – Lifehouse
Kiss me or what – Thompson square
Central park – Jay lippincott
Diamonds and rust – Joan baez
Yellow brick rd – Elton john





Entertainment Direct Global

239.514.7628
info@edirectglobal.com

Entertainment Direct Global, a division of Peter Duchin Music of Naples, Inc.
fully licensed and insured, regulated by the Florida Department of Business and Professional Regulations. License number TA 1182