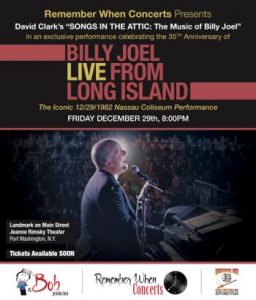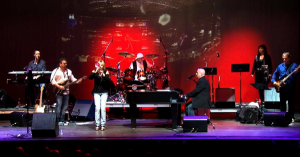 Since the release of "Piano Man" in 1973, Billy Joel has had 33 Top 40 hits spanning three decades, all written by the man himself. Billy Joel has been inducted into the Songwriters Hall of Fame, The Rock & Roll Hall of Fame, The Long Island Music Hall of Fame, and The Hit Parade Hall of Fame.
"Songs in The Attic" is a musical tribute conceived and presented with detail and affection by Long Island veteran singer and piano player, David Clark.
Formed in 2011 and roaring through debut performances before thousands at the WBAB sponsored Jones Beach boardwalk bandshell summer concert series, as well as the Nesconset gazebo summer concert series, David entertains audiences with stunningly accurate piano performances and lead vocals combined with dynamic and high energy band performances at sell-out venues throughout the greater New York City area and the east coast.
In 2014, he performed at The Paramount in Huntington on October 23rd, 2014, for the induction of former Billy Joel band members Richie Cannata, Liberty Devitto and Russell Javors, filling the role of the Piano Man himself in "Miami 2017," "Still Rock & Roll to Me," and "You May Be Right."
He has since become the lead singer for shows performed by this group under the name given them by producer Phil Ramone "THE LORDS OF 52nd STREET."
In the summers of 2013 and 2014, David performed with the original members of Billy Joel's band – Larry Russell on bass, Rhys Clark on drums and Don Evans on guitar.
In 1971-72, featuring the very musicians who toured and performed on Cold Spring Harbor and Piano Man, as well as the famous WMMR Sigma Studios Philadelphia radio concert in April of '72.
The band reunited with David at the piano & vocal helm along with the UK's Elio Pace at The Bitter End in NYC, World Cafe Live in Philly and World Cafe in Delaware, performing the WMMR radio concert in its entirety.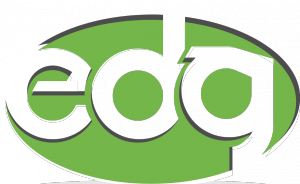 Entertainment Direct Global
239.514.7628
info@edirectglobal.com
Entertainment Direct Global, a division of Peter Duchin Music of Naples, Inc.
fully licensed and insured, regulated by the Florida Department of Business and Professional Regulations. License number TA 1182