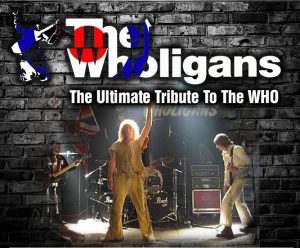 The Wholigans capture not only the sound and essence of The Who but could easily pass for the original members of The Who.
The band concentrates on the 'Live at Leeds' era , but their setlist contains a majority of the most popular material from The Who's catalogue from day one until the final days of Keith Moon.
From the stage clothes to the authentic stage gear + capturing the mannerisms of The Who. The Wholigans bring back memories of a Who of yesteryear which has to be seen to be believed.
With the thrashing windmills of Pete Townshend to the mic swinging of Roger Daltrey, and the incredible drumming style of Keith Moon ,combined with the thunderfingers of John Entwistle.
The Wholigans seem to have captured the total package…….that is The Who.
The band is regarded by fans of The Who as the worlds best WHO tribute, which is proven by the band being asked to headline WHO conventions worldwide

Entertainment Direct Global
239.514.7628
info@edirectglobal.com
Entertainment Direct Global, a division of Peter Duchin Music of Naples, Inc.
fully licensed and insured, regulated by the Florida Department of Business and Professional Regulations. License number TA 11